Portable Popup Trade Show Displays
---
Portable popup trade show displays at affordable prices is what we offer. We fully customize our displays specifically for your business. Click to check out our frequently asked questions about portable displays. All of our portable pop up displays come with a lifetime guarantee. If any mechanical part of our display breaks we will replace it at no charge. Please click the icons below to see the different examples of lightweight, portable popup trade show displays.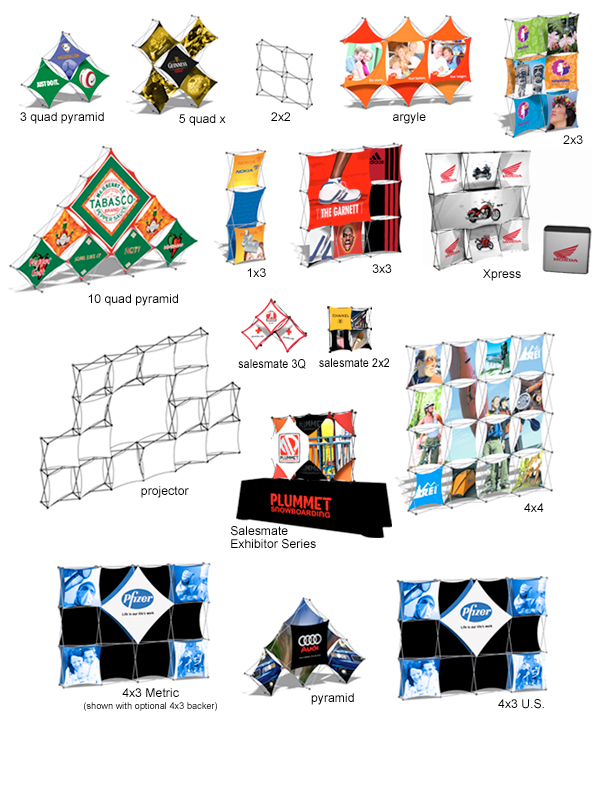 Here you can see a size chart which shows the width and height of all of our portable popups.
Please click to download our brochure about trade show displays.
Looking for the best deals on trade show displays? Check out some inexpensive trade show displays that might work for your business.
Here's Our Case, We'll Make it Brief!
Portable popup trade show displays have many advantages. If you are exhibiting out of town our trade show displays will fit in your luggage or possibly a carry on bag. You'll save a small fortune on shipping. If you prefer to ship your trade show display to the expo; most of the ones on this website are less than 20 pounds so it won't cost much. These displays literally setup in seconds so you'll be the first one setup at the expo and the first one ready to leave when its over. The grid style of separate panels combined with the 3-D look of our portable popup trade show displays makes people attending the expo stop and notice. Also, the individual fabric panels can be easily and affordably replaced. What this means is that you'll never be stuck with an old or outdated trade show display. If you don't like the 3-D look and prefer the more traditional flat wall or curved wall trade show displays we also have those here: Pop Up Trade Show Displays