6 Foot Trade Show Displays
---
To view spec sheet simply click on the kit below! These portable 6 foot trade show displays are 63 inches wide and 94 inches tall. This means that they are about 5.25 feet wide and almost 8 feet tall. This is the perfect size trade show display for use instead of a table top show. You can request no table at the exhibits where they offer you a 6 foot table and use this display instead and really stand out. It also works well in a 10 foot exhibit space with a literature rack or small table with chairs.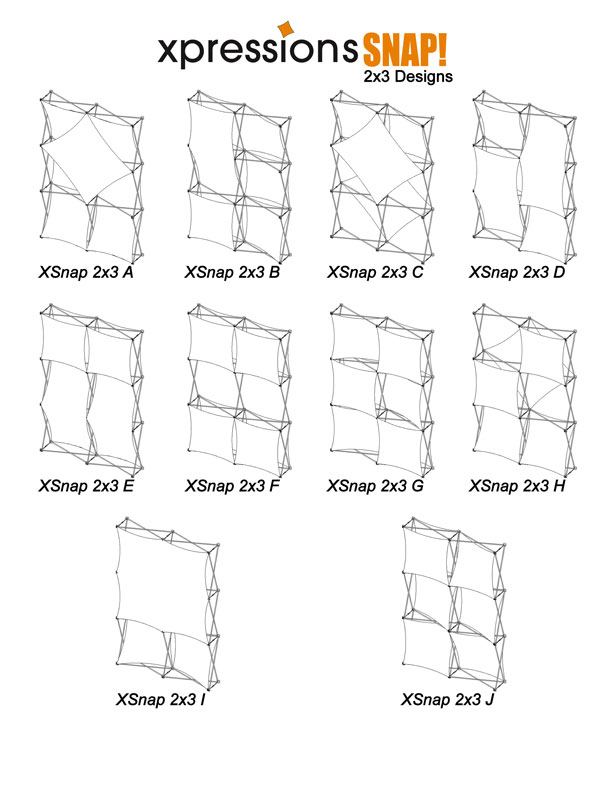 In the video you will see another example of a 6 foot wide portable pop up trade show display. The display stands 8 feet tall and looks great. As the video mentions, our company is a full service ad agency so we will make all of your marketing materials match. Our brochure designers work with our website designers and trade show display designers to make certain that everything will match. This trade show display was made for a Title company in Miami Florida using the 2×3 D model shown above. All of our trade show displays are very portable, weighing only about 15 pounds. They all include fully customized trade show graphics designed just for your business. The fabrics remain on the display the entire time so you never have to attach anything; just open the trade show display and it magnetically snaps together.
5.25 feet wide and almost 8 feet tall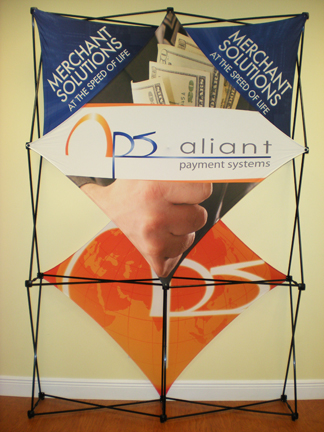 The portable popup 6 foot trade show display shown above is the style 2x3C shown on the left. This particular display is actually about 5.5 feet wide and 8 feet tall. It is a popular design because it allows about half of your exhibit space to be open for a table and chairs, literature stand or product samples.
The video above shows that in less than one minute you can setup and take down our portable popup trade show displays. All of our portable popup trade show displays setup in seconds and are very lightweight. The popup trade show displays on this page are called 6 foot popup trade show displays but they are actually about 5.5 to 6 feet wide and 8 feet tall.
Sometimes the question comes up about what size trade show exhibit will be best. This page of our website is showing 6 foot wide trade show displays. They are a very popular size because sometimes a local chamber of commerce will setup an evening event and may give everyone a 6 foot space. It often happens that most of the local businesses won't have a trade show display so you stand out as the leader in your field when you have a unique, 3-D looking trade show display. The 8 foot trade show displays are another great option but there may be times when it is too big for the small "Business After Hours" type of events that are common with many chambers of commerce. So the best way to decide which trade show display is best for your business will depend upon how it will be used. If you only attend the big trade shows that typically last for a few days at a time then maybe the 10 foot trade show displays would be the best option.
With this 6 foot wide trade show display combined with one of our literature displays you could fill a 10 foot exhibit space.