8 Foot Trade Show Displays
---
To view spec sheet simply click on the kit below! These trade show displays are 93.5 inches wide by 94 inches tall. This means that they are just under 8 feet wide and 8 feet tall. People use this as a 10 foot display booth even though it is 8 feet wide because it leaves a little room on each side.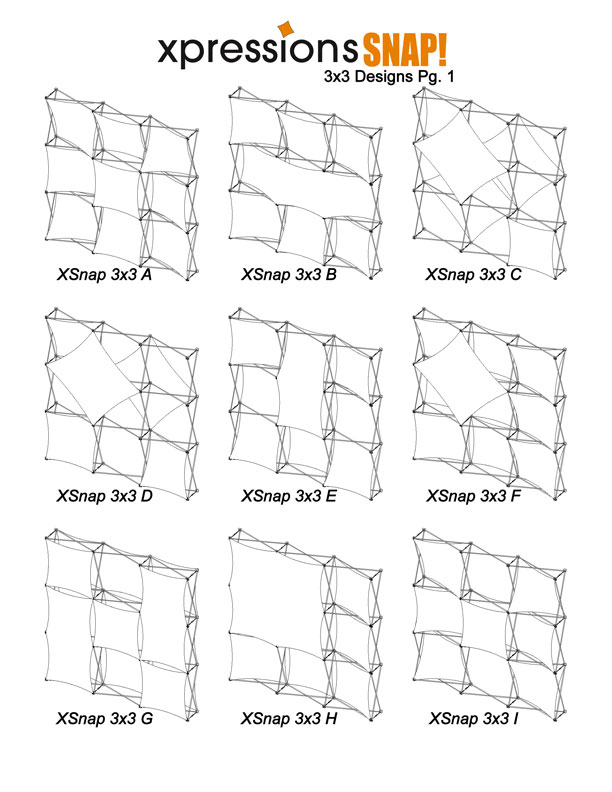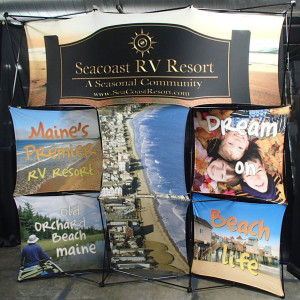 This portable 8 foot pop up trade show display shows yet another design option. The wide fabric which is normally in the middle would have blocked the view of the coastline so we put it at the top. This trade show display weighs only 17 pounds and setup in seconds. Most of our clients prefer the 8 foot trade show display over the 10 foot display because it leaves a little extra room in the typical 10 foot exhibit space. Often there will be a literature stand off to the side when this size of trade show display is used.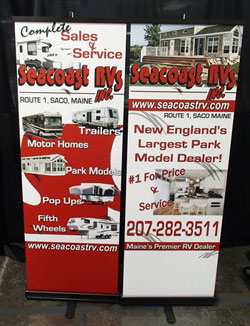 These banner stands were produced from artwork the client provided. Previously they had shorter, cheaper banner stands and they broke after a couple of uses. There was no time to redo the artwork so we just left a little blank space at the bottom. Our banner stands aren't the cheap kind that fall apart after a couple of uses; ours come with a lifetime guarantee. If it breaks we don't ask how you broke it; we replace it!
Slightly less than 8 feet wide and 8 feet tall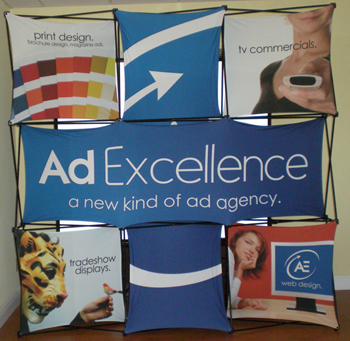 The photo above shows the 8 foot portable popup trade show display style 3x3B which is also shown in the diagram to the left. This is the most popular size because it fits nicely in a 10 foot trade show booth space.
The video above shows how you can setup this 8 foot portable popup trade show display in about 15 seconds. When you are ready to leave the trade show exhibit hall it magnetically unsnaps and falls to the floor folded and ready to go back into the bag in about 5 seconds. The entire display including the bag weighs only about 15 pounds.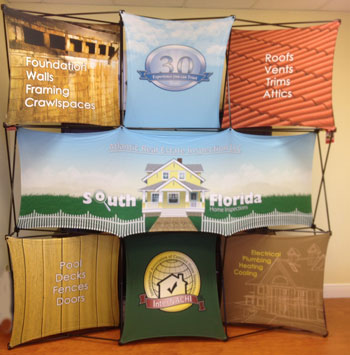 This is the most popular style of our 8 foot trade show displays. The modular 3-D look draws attention and makes people slow down to take a look. We designed this trade show display as part of a complete marketing package for this client. Click the link to see a great example of corporate branding. This is one of the many benefits of working with a full service ad agency for your trade show display needs.