Trade Show Displays With Podium & Shipping Case
---
Unique Portable Pop Up Trade Show Displays With Travel Case – Podium. These trade show displays are 93.5 inches wide by 94 inches tall. This means that they are just under 8 feet wide and 8 feet tall.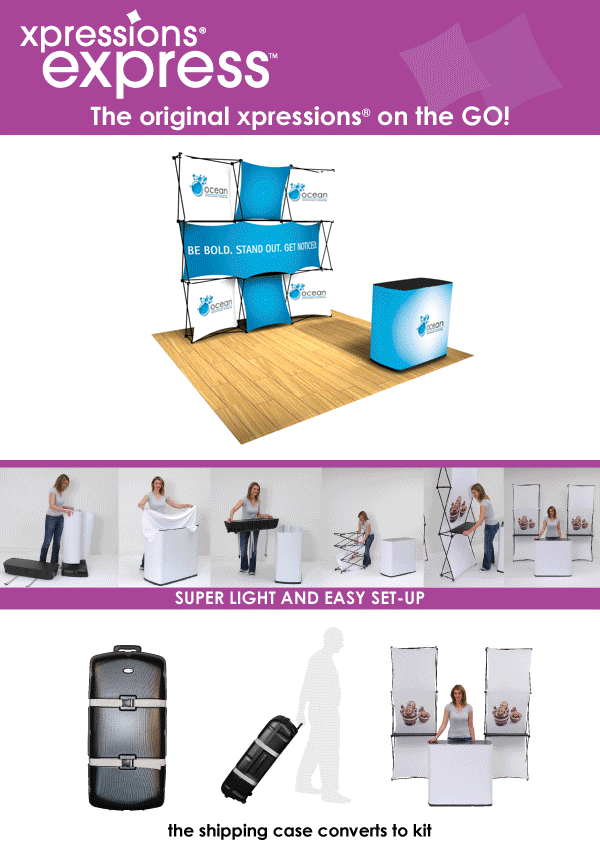 Please click any of the pictures below for sizes.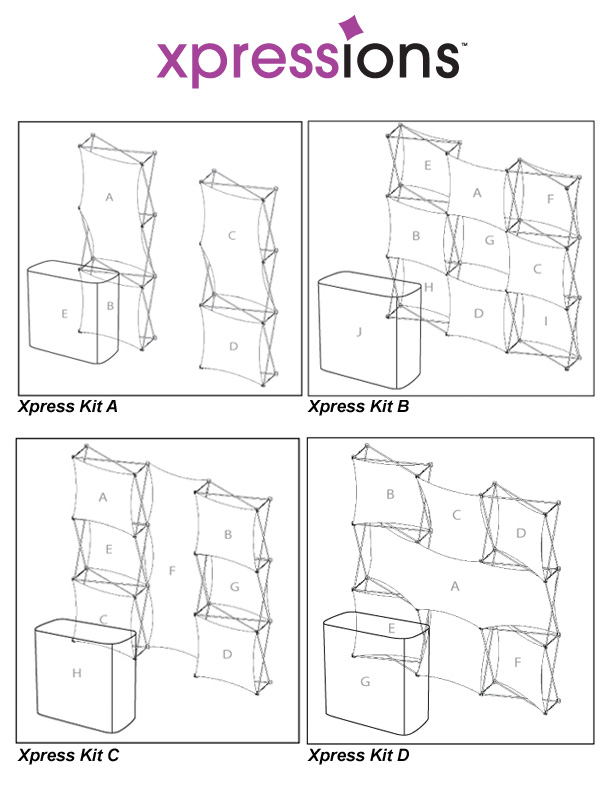 This type of trade show display features a very flexible range of display options. Not only do you have the configuration options show above but within each option you have the ability to change the display. For example on the right we are showing 3 variations of how to use Kit D. The owners sometimes attend small exhibits such as the ones that many local chamber's of commerce conduct. They might be given only a 6 foot exhibit space so they will bring either the left or right half and the case which converts to a podium. Additional skins (fabrics) can be purchased so that they could fill in the empty space in the left or right half of the trade show display for those smaller events where they can only setup one half.
The next option is to add the long center skin which in the picture above is shown as "C". This skin goes behind the two shelves and leaves them available to hold product samples, brochures, business cards or a small flat screen TV. This client told us that at some shows they intend to have a small flat screen TV there running a video.
In the last picture on the right we have added the long horizontal skin which completes the trade show display. With everything setup this becomes an 8 foot, lightweight, portable pop up trade show display with a podium. The 8 foot trade show display is perfect for exhibit spaces where they allow 10 feet. You have room for the entire 8 foot trade show display and a little extra room off to one side for the podium. When the trade show ends everything folds down to fit inside the case which has built in wheels. When the display is setup the case is what is used to make up the podium. Every part is used so there is nothing to hide behind the display. Also there are no tools or special skills needed to setup or take down the display.
This style of pop up trade show display has become our most popular exhibit choice. People like the idea that the entire trade show display weighs less than 50 pounds, sets up in minutes and the wheeled carry case becomes the podium.
Also being 8 feet wide the display fits in a 10 foot exhibit space with room for the podium and a literature display.
This client (left) is a well known south Florida company.
Slightly less than 8 feet wide and 8 feet tall
This video shows how you can quickly setup this lightweight pop up trade show display and use the case to create a podium. The case contains two shelves which are used to separate the two 1×3 pop up displays and the upper shelf can be used to hold brochures or products. The case has wheels for easy transport and ships as a checked bag on any airline.
Please click to download our brochure about these kits which include a podium trade show displays.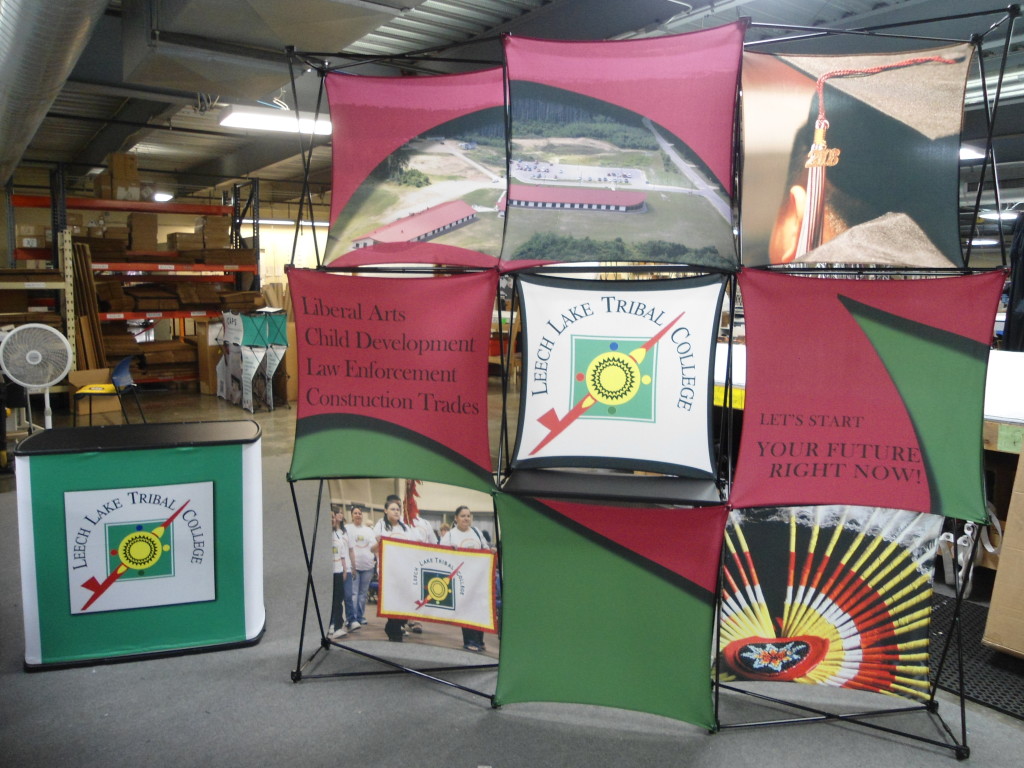 We designed this portable pop up trade show display with a podium for a college. This style of trade show display is our most popular style but many prefer it just as the 3×3 without the podium.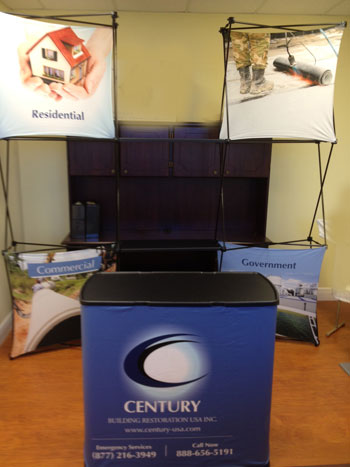 This trade show display can be setup like this or it could be used with only the left or right side if the exhibit space won't allow for the full trade show display.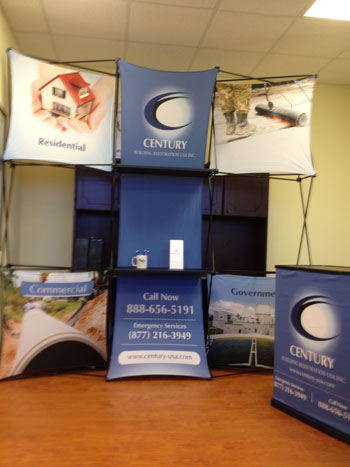 The left and right halves of this 8 foot trade show display are held together with two shelves in the center. The display can be setup this way so that the shelves can be used to hold product samples or brochures.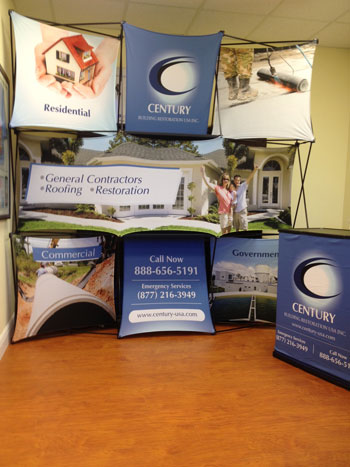 Here the trade show display is shown with everything in place. When you are ready to leave the exhibit hall everything easily folds down into the case and you wheel it away.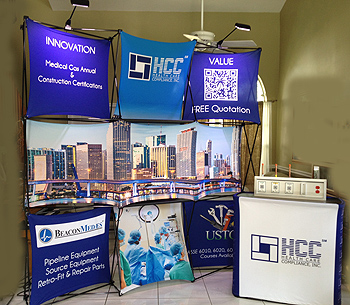 This client is a Fort Lauderdale based company that wanted to exhibit in a show for hospitals. They provide equipment for medical gas. They decided to use our LED lights to make the colors more vibrant.