Inexpensive Trade Show Displays – Best Prices – Deals
---
Many business owners find that they have a trade show that looks like a great opportunity and on short notice they have to throw something together. There is no reason to go and be an exhibitor at a trade show if you aren't prepared. If you need the best prices and you are looking for some great deals then check out this inexpensive trade show display. This isn't just one inexpensive trade show display it is three trade show displays in one.
Here is how it works: Instead of spending big money on one huge trade show display we make three retractable banners for you which when placed side by side will fill an entire 10 foot exhibit space. Sometimes the local chamber of commerce puts on a small event where a 10 foot trade show display would be much too big. In that event you would simply use one or two of the retractable banners and you still have a very inexpensive and professional looking trade show display.
We can design the retractable banners in such a way that any one of them could be used alone. On the other hand if you know you'll only use it in a 10 foot exhibit space and your main goal it to keep the cost down then we would design this display so that all three would need to be placed side by side to display the entire message about your company.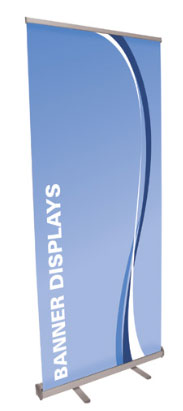 This retractable banner is 36 inches wide (3 feet) so that three of them side by side will a few inches in between will make this display fit perfectly in a 10 foot exhibit space.
This inexpensive retractable banner is 36 inches wide and the viewable area is 78.5 inches tall. This is one of the most economical trade show displays you'll find.
Looking for something else? Below we have a link to a different website filled with all types of inexpensive trade show displays, banners, table covers, table top displays and signs that are not shown on this website at all.
On our other website we have many more affordable trade show displays that you may want to view. Many of these products are available with very fast turnaround times. Some of these are available with 24-hour and 48-hour turnaround after you have approved the design we create for you.
See something you like? Use the Contact Us link at the top right of the page and let us know the page number and the name of the item. We will promptly get back to you with the current and best possible pricing on our most inexpensive trade show displays.