Unique Traffic Stopping Pop Up Trade Show Displays!
---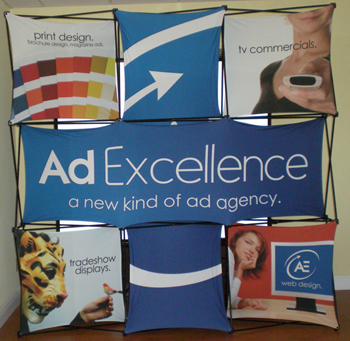 Attention getting unique, portable pop up trade show displays are important for your business because there are so many distractions at a trade show. Most business owners who exhibit at trade shows will get at 10 foot exhibit space. We have tabletop displays as well as 8 and 10 foot floor trade show displays. As potential customers walk the halls of the trade show floor it only takes about three seconds for them to walk right past your display. If your trade show display won't make them stop and look then they are on to the next booth. People go to trade shows somewhat like people going shopping at a mall. Part of the fun of a trade show is walking up and down the aisles of the trade show seeing all the displays and stopping where you see something interesting so you can get more information. However, just like shopping in the mall you don't stop at every store; in fact you don't stop at most of the stores. You see things that interest you in the mall and you stop to check it out further. When you look at the faces of people walking in a shopping mall they look very similar to people in a trade show. Most of the time people aren't searching for a specific place to stop and shop; they want to see what is there. This is why a unique trade show display that commands attention is so critical. You never get a chance to make a sale to the potential customers if you can't first get them to stop at your booth.
We have a two pronged approach at getting clients to stop:
1. We design bold, stunning graphics.
2. We offer some very unique trade show displays.
We have clients all over the United States but if you are located in South Florida please feel free to stop by our office. Our Hollywood office is right off I-95 which makes it very easy to get to from Miami Dade and the Broward Fort Lauderdale areas.
These unique portable pop up trade show displays are custom designed by our advertising agency. Here you will also find tabletop displays and 8 foot and 10 foot displays. Our products feature lightweight, super fast setup and a lifetime guarantee. All pop up trade show displays have moving parts and moving parts may break. If any mechanical part of one of our displays breaks we will replace it promptly at no charge to you. This guarantee is valid forever; the way a guarantee should be!
Trade Show Displays
Hollywood, FL‎ 33020
United States
954-806-0712
Hours:
Monday 9:00 am – 5:00 pm
Tuesday 9:00 am – 5:00 pm
Wednesday 9:00 am – 5:00 pm
Thursday 9:00 am – 5:00 pm
Friday 9:00 am – 5:00 pm
Saturday Closed
Sunday Closed