Trade Show Display FAQ's – Got Questions? Get Answers!
---
Here is a list of Trade Show Display FAQ's. These are the most frequently asked questions about our lightweight, portable, pop up trade show displays.
Q. Can I remove the fabrics or skins and swap them out for other skins so that I can use the display for more than one purpose?
A. Yes! It is easy to do and no tools are required. The fabrics or skins are held in place by a small rubber washer. You simply remove the washer and then remove that skin and then you can put on a different skin. We have many clients who do this so that they have two or more trade show displays in one. Please see the pictures below.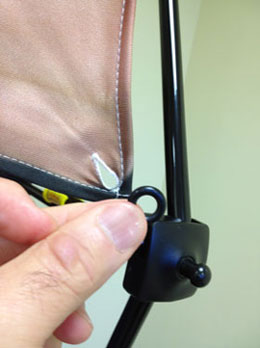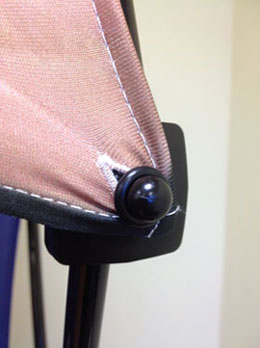 Rubber washer holds skin in place
Now the skin can be replaced
Q. While it is great that your advertising agency will produce the graphics for our trade show display what if we have our own designer that we'd rather use?
A. No problem! If you have a designer who will produce high resolution graphics that are ready to print then we subtract the cost of design from all of our trade show displays. When you click this link to view one of our trade show displays (click it and it will open in a new window so you can still read this page) you can see many configuration options. Now click on the 3x3B option; that's the trade show display that we use when we exhibit. Then it will show you a bigger picture of the 3x3B. You'll see measurements there but they are too small to read; click that picture and a pdf will open which you can print out with the sizes and instructions. In that pdf you can see that skins A and F are long and skins B, C, D & E are square. You'll also see a note at the bottom right of the pdf that explains about the focus area. If you were going to order this display, the 3x3B then your designer would give us six high resolution, ready to print pdf files correctly labeled A.pdf, B.pdf, C.pdf and so on so that we know where to place each of the skins. We would also need one picture to show us what the completed display should look like so that there are no mistakes.
Q. HELP! Today is Monday and I'm in a trade show on Saturday is it too late?
A. Of course it is always best to allow about 3 weeks for design, printing and shipping to get your trade show display ready stress free. We understand that things happen and a great opportunity to exhibit at a trade show may come up and you find your old trade show display is damaged or looks outdated. If needed we can have a design for you within 24-hours and if you approve we will print the trade show display and ship by next day air. Here is some more good news; there is no rush fee, you just pay the next day air charge.