Why Use Us For Your Trade Show Display Booth
---
Our company offers trade show displays that are very unique. What makes us different from other companies that can sell you a trade show display booth is that we are a full service ad agency that designs the displays. Other companies want you to provide the design and they only supply the hardware. Some companies will offer to make the design and the trade show display but they specialize in the equipment itself. Consequently they will do little more than put your logo on the display or they may ask you what you want on the display. As a full service ad agency we realize that you know all about your business but you aren't a trade show display designer so we offer our expertise. We want to learn as much as we can about your business and help design the trade show display in a way that will get people to stop and walk up to your booth and talk with you about your business.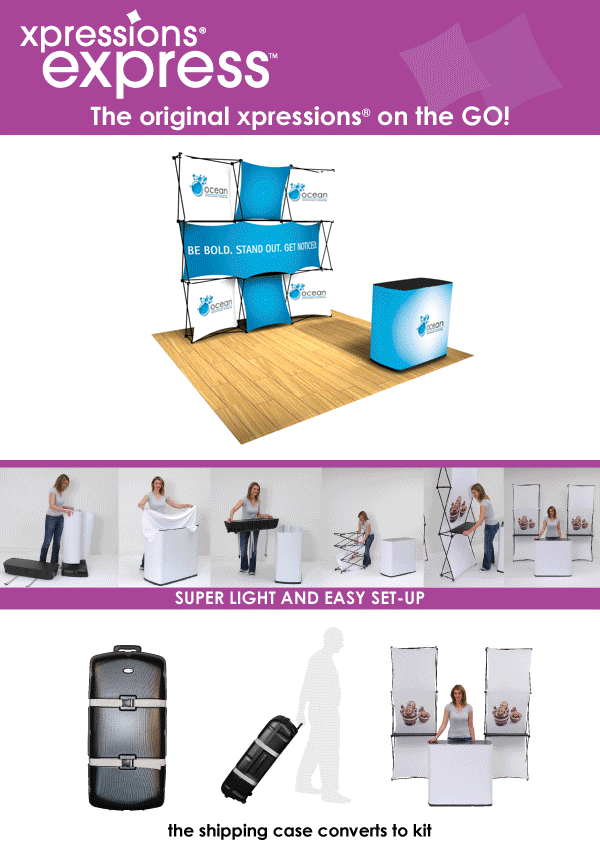 A full service works with you to provide a unique attention getting design for your trade show display. We offer the full package all under one roof. With us you won't be going one place to get something designed and elsewhere to get the display produced. People often run into problems when they have a graphic artist make the design and then give it to a company that makes the display. Someone who normally makes brochures for example may not understand the complexity of making a trade show display. If the display doesn't come out properly the display company may blame your graphic artist while the graphic artist blames the display company.
With our company there is no finger pointing, we accept full responsibility from start to finish. We will give you one price which will include everything; the design graphics, the display itself and the shipping cost to your office.
Additionally we don't sell cheap trade show displays that break when you use them. In fact we are so confident in the quality of the pop up trade show displays that we sell that we guarantee them for life. If any mechanical part of one of our trade show displays breaks we will replace it fast at our expense. There will always be others who can claim to be a little cheaper but finding someone better isn't so easy.
"The bitterness of poor quality remains long after the sweetness of low price is forgotten" – Benjamin Franklin
In sum, our trade show displays are unique, light weight, affordable and they all offer very fast and easy setup with no tools!
We offer matching graphics for everything related to the trade show:
We own each of the websites listed above so you have true one stop shopping with us.
All of the hardware used in our trade show displays has a lifetime guarantee. If a part breaks we will replace it no charge, you will only pay a nominal shipping charge.
If it isn't unique and doesn't demand attention we don't sell it our competition does!
---
We also have more trade show display options than anyone. Here is another example of a fast setup popup trade show display.
---
We like pop up trade show displays that are easy to setup, lightweight, very portable and we don't like saggy, wrinkled graphics.